Frequently Asked Questions
No. Part of our training focused on kids discovering what they love and turning that into a business that solves a problem for customers. Once kids discover what they love, they will fall in love with their project!
The total commitment for completing our training and launching your business is 3 weeks, or 12 hours total. Our training course requires 3 hours. Our pre-launch project requires 4 hours, and our launch project (usually over a period of 2 days) requires 5 hours. The training, pre-launch, and post-launch projects can be done on your schedule and are totally up to you. When you're finished, you can either turn off your store or keep growing your business!
Kid entrepreneurs who closely follow the MyFirstSale launch checklists will usually make back their $97 quickly upon launching. Our young entrepreneurs have made anywhere from a few hundred dollars to a few thousand dollars.
From Sign Up to Payment of your first order: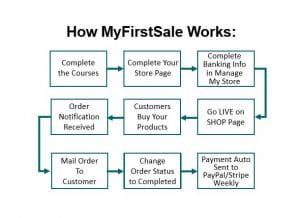 My First Sale provides a marketplace for young entrepreneurs who want to make or sell anything! This can include crafters, artists, bakers, sewers, woodworkers, collectors, mechanics, gardeners, and innovators to name a few. Both physical goods and digital products can be sold on My First Sale. We do not allow anything illegal, drugs, alcohol, weapons, perishable or unpackaged foods and drinks, anything else not safe to make or sell as a student.
Don't worry! Just follow the training, pre-launch, and launch checklists and stick to the 3 week (12 hour) schedule. Once they make some sales, their excitement level will go up. After the 3 week launch, you can turn off your store and be done! Or if your kid is passionate about their business, they can keep growing it!
Yes, up to 3 students/kids are allowed for 1 storefront. If you would like each kid to have their own store currently they will each need their own account. Each account comes with multiple products and product lines under each business. Contact us for discounts on multiple store sign-ups.
Yes, kids can launch new products, product lines, or even new businesses as they continue to grow in the program. Top performing students have had several business ideas.
It's easy to set up a Store Page on MyFirstSale. Create a MyFirstSale account and begin by watching the Video Courses and Curriculum.  Complete the Action Steps after each Video Course and your Store Page will be built automatically. Add additional products and then GO LIVE.  MyFirstSale is unique in offering Courses and Curriculum to help our young entrepreneurs understand business, marketing and economics. We believe this will give kids an advantage.
We created MyFirstSale so that kids age 5-17 can easily go through the Video Course and Curriculum. When they complete the Action Steps after each Course, this automatically populates their Store Page.  They will be amazed at how it comes together!
Each Store Page will have a unique url that can be shared with family and friends. We provide a "Share" button on each Store Page to simplify sharing.
Students will need to plan ahead for the packaging and shipping of their items:
First step is to determine packaging necessary for their product(s).
Kids will also research the shipping options offered: 1) Fixed/Flat Rate, 2) Carrier Rate and/or 3) Local Pickup.

We recommend a visit to the Post Office or other Shipping Store (UPS, FedEx) to establish exactly how much it will cost to ship one item, two items, three items, etc.

Then kids will define these shipping options in their Store Page.
When an order is received, the order will specify the shipping option and include the shipping cost defined by the seller.
The seller is responsible for shipping within the order processing time defined during Store Page setup.
If Local Delivery is used, student addresses are not shown by MyFirstSale and we ask that home addresses are not given out to strangers and that parents oversee these transactions.
Yes! Your child's safety and privacy is our top priority! One of our training videos addresses this with all kids. We make sure that no last names, emails, phone numbers, addresses or personal social media accounts are linked to the page at all. MyFirstSale is set up so that all orders will go to the parent or guardian's email only. Lastly, we don't put your home address listed on the site.
Membership to MyFirstSale is $97 for all our video curriculum, content, unlimited store pages, and e-commerce site.  Families can also choose to upgrade to the Kid Biz Mastermind Coaching Program for $17 per month – this is for kid entrepreneurs who want to reach a thousand dollars or more of sales.  Our team will also release new content videos, interviews and best practices throughout the year to keep kids learning and engaging.
Once an order is made, there are 3 types of fees: a payment processing fee, a transaction fee and a payout fee. The Payment Processing Fee is 2.9% + $.30 on the customer's total order amount. MyFirstSale retains a transaction fee of 5% on sales to cover costs (including the shipping price you set). After the order status is changed to "Completed", you will receive a payout via PayPal or Stripe whichever you set up with your banking information. PayPal charges $.25 per payout transaction and Stripe charges $.50 per payout transaction.  These 3 types of fees are 100% consistent with other e-commerce sites.
Below is a table showing exactly how fees are calculated. Sellers should note that a small item cost causes higher % fees (due to minimum amounts), while higher items costs creates lower fees. Each seller should build these fees into the cost of the item in order to cover the costs of doing business on an online e-commerce site.
MyFirstSale is easily accessible on all internet browsers. Kids may use desktop computers, smart phones and tablets to watch the Video Courses and Curriculum, build their Store Page, receive orders and complete shipping orders.
No, kids do not need their own email address. We designed MyFirstSale with kids' safety as our top priority, therefore, the parent's email address is used for all communications and order notifications.
MyFirstSale payouts to entrepreneurs are done weekly based on net sales.  You can either hook up a bank account or PayPal address for all transfers.  In addition, each time you refer a kid who signs up, you will receive a $10 referral bonus as store credit to buy whatever you want in the marketplace.
We do not allow returns under $10, and in general returns are not recommended for student store pages. This will be at the discretion of the parent or guardian and the buyer, and should be reflected in Reviews and helping teach students.
You are free to turn off your page at any time and fulfill any outstanding orders. If your young entrepreneur fully completes the Launch Your Business Course within 30 days and is still not satisfied, MyFirstSale will give you a full refund. Simply Contact Us within 30 days of signing up and we will promptly refund 100% of your money.
We are here to help! Contact our Customer Care staff at info@myfirstsale.com and someone will get back to you within 24 hours.
No, it is not required to watch the Video Courses. We have included years of real-world experience in the Curriculum taught in easy to watch 5-8 minute videos. The Video Course and Curriculum is self-paced and kids can begin building their Store Page before they complete the Courses. They may also go back and watch the Videos at any time.
For the most part, MyFirstSale sellers won't need to get local business licenses in order to operate unless they're also registering their business with the IRS. When you go big time, this is the next step!!